Diligent Search is an online resource designed to assist European cultural institutions engaged in digitisation of their collections. The design of the resource is currently in progress, as part of a project funded by the Joint Progamme Initiative on Cultural Heritage (see details in the box on the right and in the About page).
Once operative, Diligent Search will provide cultural institutions with a resource to carry out diligent searches of rightholders and to "crowd-source" certain phases of this process, so that they can legally digitise their collections.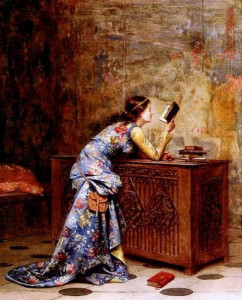 'Captivated' by Adolphe-Alexandre Lesrel (1839–1929)
European cultural institutions are increasingly engaged in digitisation and making available online of works and artifacts contained in their collections. Europeana, the portal of European cultural heritage, gives access to almost 50 million digital objects from libraries, museums and archives.
However, digitisation of recent cultural heritage is still undermined by the risk that copyright and related rights may still subsist in the works. Under the recent European Directive on OrphanWorks, cultural institutions are allowed to make certain uses of those works if none of the rightholders could be identified or located after having carried out a diligent search.
Legislations of each Member States determine the conditions under which such a diligent search must be carried out; in particular, national legislations determine which sources must be consulted for each category of work to locate the potential rightholders.
Diligent Search will experiment an easily accessibile, user-friendly and legally informed system to carry out diligent searches in different countries, and on different categories of works and phonograms. A beta version of the system, with limited functionalities, will be made available for testing by end 2016.
If you are interested in taking part in the beta testing and want to share your experience on diligent search with our researchers, please contact the project leader.